From the Defense Department, we received a request to supply helmets. Since it was not yet clear what the design of the new night vision devices would be, we developed a shroud. This fits the standard "3-hole pattern" of American helmets. It's a combination of AISI304, AL6061T6, and fiberglass-reinforced nylon – a combination that is indestructible!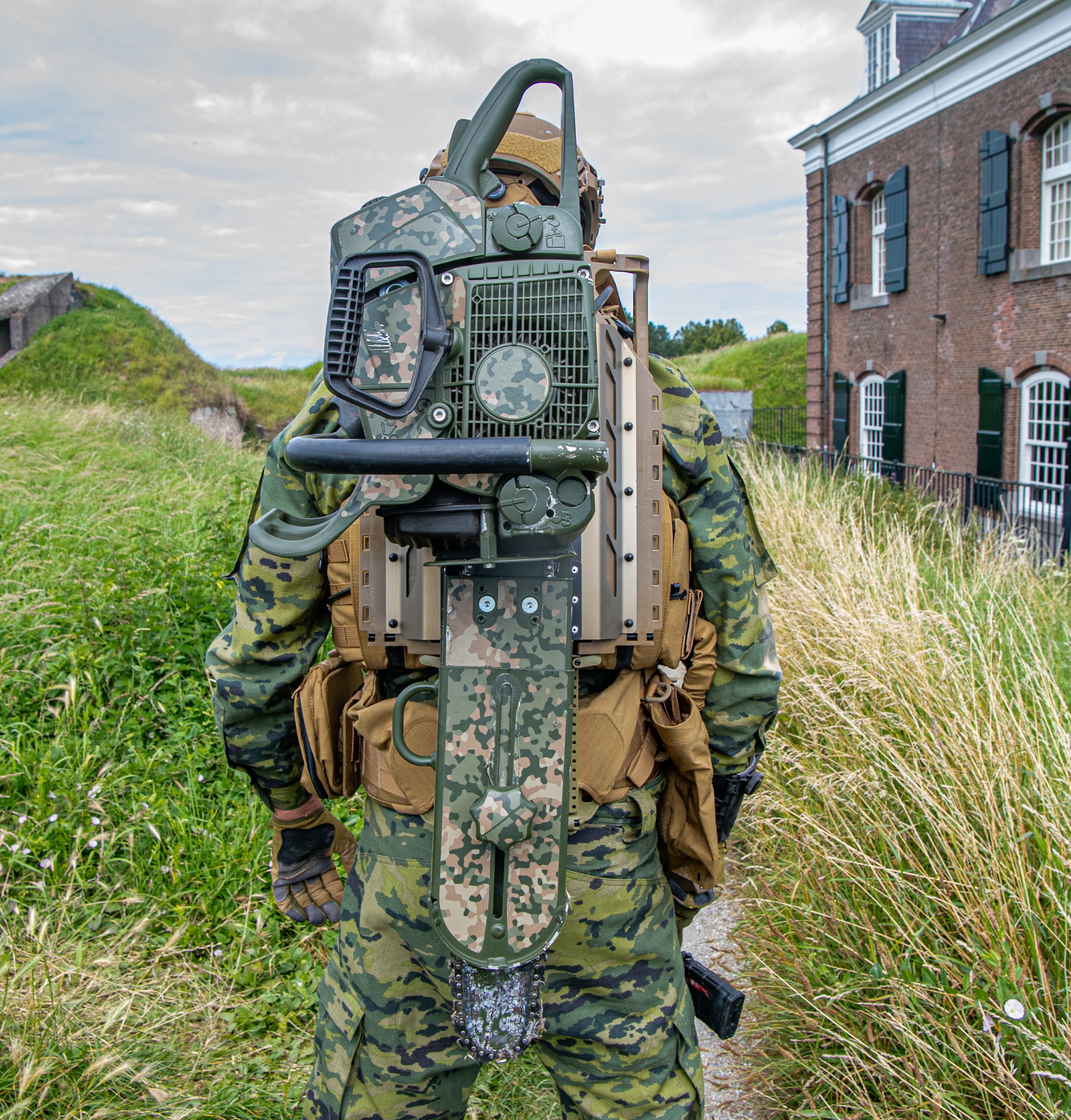 We received a request from the KC Genie, the center of knowledge and expertise for the army engineers, to adapt the FUSION carrying system for use with heavy breaking tools such as chainsaws, grinding machines, and electro-hydraulic sets. The FUSION system has a quick release feature, making it extremely suitable for adjustments to heavy loads. A series of prototypes were designed in 3D CAD. The prototype series was produced in our workshop. The various prototypes have passed the user test. Currently, the first series has been delivered, and we are working on further development.
The FUSION system which is at the core of this carrying plateform is a complete, modular, and scalable combat system with its own carrier skeleton. It's intended for the modern infantryman, adaptable to a wide variety of missions and environments. The FUSION system is equipped with a quick-release system, making it highly suitable for heavy-duty modifications.
The system is composed of a tactical belt with MOLLE attachments, serving as the heart of the carrying system, distributing all the weight on the hips to protect your shoulders and back. The carrier skeleton attaches directly to the back of the tactical belt, offering exceptional freedom of movement, even in climbing phases.
The FUSION system includes a ballistic plate compartment, two side water pockets, and a specific pocket for carrying a radio set. Additional features include a front tactical panel for combat readiness and a backpack with a 60-liter capacity. It's constructed with high-performance nylon fabric, providing abrasion and fire resistance.
This advanced system has been modified by us, in collaboration with the Centre of Knowledge and Expertise for the Army Engineers (KC Genie), for use with heavy breaching tools such as chainsaws, grinding machines, and electro-hydraulic sets. Following a series of 3D CAD prototype designs and user tests, the first series of the modified FUSION system has been delivered, and further development is underway​
Jungle Warfare Uniform (JWF)
Na een succesvol project voor uniformen in het uitzendgebied in Mali hebben we de een nieuwe jungle uniform ontworpen. De ervaringen met de stof, (permethrine) coating, camouflage ontwikkeling en design zijn gecombineerd met de know-how van jungle instructeurs van het de NLMARNS.
De eerste fase was de stof selectie. Een blend van aramide en viscose maakt een 'inherent' fire-retardant materiaal. Het gewicht van 155 g/m² geeft een ongeëvenaard ademende stof.
Het camouflage patroon is ontwikkeld op basis van omgevingsfoto's waaruit de meest aanwezige kleuren zijn genomen.
Het ontwerp is ontstaan op basis van de eisen en wensen van het jungle instructie team. Zo min mogelijk dubbele lagen, eenvoudige sluiting en afstelling, dubbele runners op de rits en een speciale sluiting van de broekspijp.
Undertaking an almost Herculean task, we were tasked with the mission to develop, design, test, and produce a unique uniform for the Dutch Special Forces for their operations in the challenging environment of Mali – all within a span of just three months.
The first phase of this process involved crafting a distinct camouflage pattern, a task completed in just one week. This pattern was not only aesthetically fitting but also functionally suited to the Mali environment, allowing our forces to blend seamlessly into their surroundings.
In the following three weeks, we worked closely with the Dutch Special Forces to design pants and shirts from scratch, customizing each element according to their specific needs and preferences. This collaborative approach ensured that the final product was precisely what our brave servicemen required for their demanding operations.
The production phase spanned six weeks, during which we meticulously transformed our designs into tangible, high-quality uniforms.
On the airplane steps leading to the mission area, the first batch of these specially designed uniforms was delivered – a testament to the efficiency and dedication with which we approached this project.
Each uniform exhibits top-notch specifications including:
– Fabric weight of 155 g/m²
– IRR (Infrared Reflective) camouflage for enhanced concealment
– Mission-specific camouflage design
– Custom design as per customer requirements
– Fire Retardant for increased safety
– Treated with Permethrin for protection against insects
This project showcases our commitment to delivering tailored solutions even under tight deadlines and challenging requirements.
Samsung A8 docking
Voor een TrekAce project werkten we met de Samsung A8. Omdat er geen smartphone case beschikbaar was ontwikkelden we die zelf.
Door in huis 3D printen werden snelle enkele conceptontwerpen gemaakt. Om uiteindelijk een serie van 40 stuks te produceren in 3D print SLS PA6 materiaal.
Naast een MOLLE connector naar de plate carrier is het systeem tevens afneembare docking met laad en audio functionaliteiten.
Het systeem detecteert voetgangers en voertuigen op basis van trillingen in de grond. Detectiebereik van een aparte sensor is ca. 7-12 meter
(diameter). De sensoren kunnen naar wens in verschillende zonering worden geprogrammeerd. Elke set bevat 5 sensoren en een monitor. De monitor geeft een trilling zodra een alarm wordt geactiveerd.
Bovendien moet het alarm worden bevestigd voordat het stopt met verzenden. Plaatsing van de sensor is in de grond. Het huidige systeem wordt gebruikt voor beveiligen van OP's, optreden in stedelijk gebied en inlichtingen.
Perimeter beveiliging weegt zwaar op een kleine raiding force. Het kost aandacht, tijd en energie. Met SWS wordt dit tot een minimum gereduceerd.
Crew tender
De Crew Tenders zijn voormalige loodsboten die na ca. 20 jaar trouwe dienst op de Noordzee een nieuwe taak krijgen. De voormalige loodsboten zijn erg populair bij de nieuwe gebruikers vanwege de degelijke bouw en subliem onderhoud. De Crew Tender die Columbia werd net als haar zusterschip Discovery gereed gemaakt voor haar nieuwe taak bij de Italiaanse Marine. Training van de nieuwe bemanning van de Columbia werd op locatie in Italië  verzorgd door Prof Training, door het zelfde team wat ook de training van de nieuwe bemanning van de Discovery verzorgde in Chili, waar de Discovery direct werd ingezet bij een bergingsklus in een snelstromende rivier.